First off, I apologize for my lack of blogging for the past few weeks. As everyone knows, Vancouver just recovered from a 2 weeks of Olympic 2010 activities. Also it coincided with Chinese New Year which my family does celebrate as well. We are gearing up for Paralympics 2010 and I'm excited to experience that as well. In addition, I've been designing origami cards and unique tags for my
etsy shop
. I'll be posting a peek soon as soon as I have a good inventory to show you.
Part of my activities that's keeping me busy is reading through the etsy forum for business advice. I stumbled upon this insightful
article
about business cards written by Danielle Laporte:
What blew my mind is that her friend was completely right, I've been working professionally for over 10 years and I have never finished a box off. I think I had 5 boxes of 1000 cards from the company I currently work for, all of which I had to get because my work title has changed or my company logo has changed. In addition, in the corporate world, most cards are pretty much the same. logo, name, contact info and the only time I looked at them was when there was power outage and I had to make that urgent phone call.
I do disagree on some points, I do think unique business cards have their place. My favourite ones are one that are functional or interactive:
Metal Business Card - Design by Aehrich O'Dubhchon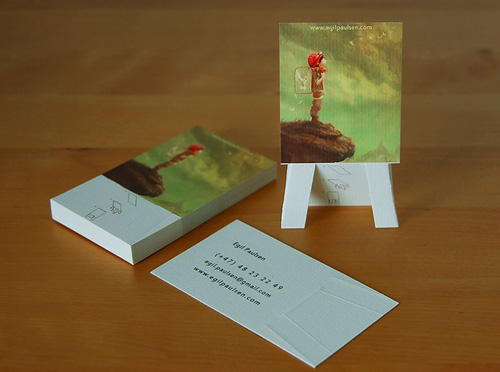 Easel Business Card - Design by Egil Paulsen
I recently been sirened on
moo cards
. I got the 10 free sample pack from moo and I was blown away by their quality to the point that I paid for a 50 pack promo (only pay for shipping). You can upload a picture on the back of each one. I already use them to showcase my work and great conversation starters. I plan to design my own business card one day, maybe like the easel card or origami based. For now, let's keep focusing on selling my products :)